Veraison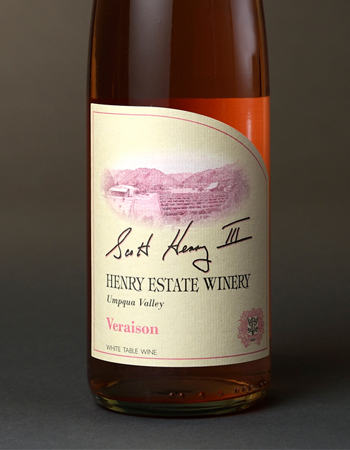 What is Veraison?
The word 'Veraison' is French in origin and can be translated as "first blush" in English. As red wine grapes ripen in mid-summer, the grape itself slowly turns from green to red. Veraison occurs at the start of this color change. The grapes start to soften in texture as the color darkens and the development of the grapes evolves.
The flavors
With the subtle shade of red grape and the fruit of the white, this is one has been one of Henry Estate's most popular offerings since it began Veraison production in 2000. Each year the wine is made from different growing seasons and will always be designated as non vintage (NV).
Veraison was styled to appeal to the wine consumer who enjoys wine sweeter in its presentation. The wine compliments melon, light cheeses and some lighter white meats, such as turkey. The light effervescent sparkle makes for great sipping and enjoying good conversation.
Product Reviews
Vance Butler
(Jan 31, 2022 at 8:16 PM)
Delightful wine, we discovered at a wine festival and after one tasting were sold. Perfect for a summer evening or whenever you want a crisp, sweetness but not an overly bubbly presentation
James Christensen
(Dec 31, 2022 at 6:45 PM)
We love this wine!
mark berard
(Feb 20, 2023 at 3:55 PM)
My wine of choice for many years was Henry Estate Pinot Noir. A year ago, I switched to Veraison and have enjoyed this lighter and sweeter approach to a dinner wine. Perfect for my diet of Fish and chicken with salads. Try it!