Country Crawdads Cajun Blues Festival - ADULT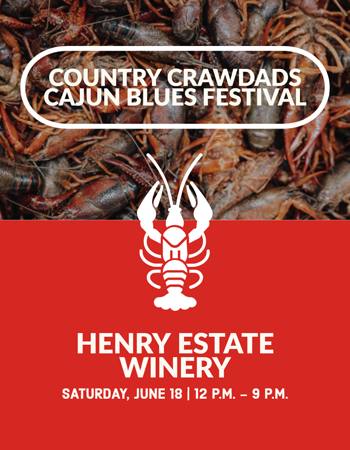 WHEN: 12 p.m. to 9 p.m. on Saturday, June 18, 2022
Laissez les bon temps rouler!
Father's Day weekend at Henry Estate, we celebrate with a different kind of dad -- crawdads! Join us for a day filled with tasty mudbugs, great wines and toe-tapping live Cajun music. Kids can get their faces painted, visit the petting zoo, jump in the bounce houses or take part in crawdad races.
Our festival is about more than just food, though! All of the proceeds as well as $2 per crawdad plate, all Celebrity Crawdad Feed donations and raffle earnings go to the Sarah Beavers Mercy Foundation Partners Fund.
Admission info:
Adults: $15
Kids (ages 3 to 20): $5
(Children younger than 3 get in free)
(We're still working on some details, so be sure to check back for entertainment and dining updates!)
Product Reviews